Benefits
Basic scale functions
Solid work horse
Thanks to the robust chassis, this weighing hand pallet truck is suitable for basic and general day-to-day weighing needs.
Fit for harsh conditions
Being both shock and vibration resistant and watertight makes this pallet scale most suitable for rough or outdoor conditions.
Accuracy at a good price
The combination of the robust chassis and the power supply by 4 standard AA-batteries enables an attractive price level with acceptable accuracy.
Industrial applications
The RAVAS-110 checks weights at goods reception or when filling out transport documents a reliable asset in all industrial applications.
De RAVAS-110 weighing hand pallet jack scale
A top quality weighing hand pallet jack scale, excellent for industrial use. View the extensive benefits, functions, technical specifications and options.
Download the RAVAS-110 Technical Specifications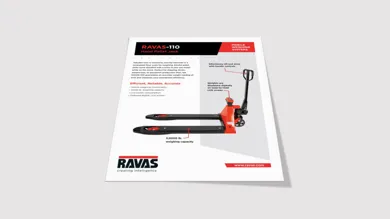 Weighing capacity

4,409.245 lbs.

Graduation

2.205 lbs.

Max. tolerance

0.1% of the load lifted

Power supply indicator

4 x 1.5 AA batteries

Functionality

Automatic and manual zero correction, gross/net weighing, totaling with sequence number, error messages in the display, automatic switch-off after 3 minutes of non-use, low battery warning in the display.

Option

Built-in thermal printer
CryoTechnics uses the RAVAS-110 to weigh dry ice
CryoTechnics Cleaning Solutions uses a RAVAS-110 to weigh dry ice, a highly volatile product. The liquid carbon dioxide flows into the production area from a large tank, where a machine freezes it and shapes it into pellets. These are immediately dosed into special containers, using the RAVAS-110 pallet truck scale to measure the ordered weight. 
Read more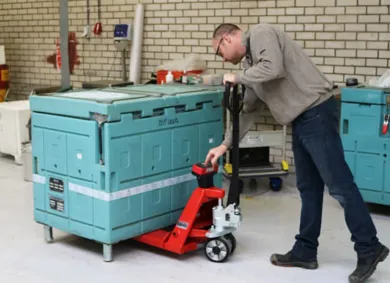 Contact us for a no-obligation quote or for advice
Ask an expert!
Receive more information or a quote on the RAVAS-110? 

Ask an expert!
Receive more information or a quote on the RAVAS-110?