Optimization
Control your operational waste flows
Obtaining total control of operational waste flows starts with precise weighing and accurate recording of weighing data. Does your operation currently have an insufficient overview to waste management? Is it too wrapped up in retrospective weighing, overflows, and recording weights manually? RAVAS waste management solutions reduce waste quantities and save costs.
Watch Video
Increase Waste Management Production
Collect, measure, and weigh waste accurately and promptly with RAVAS Mobile Weighing Solutions.
Watch Video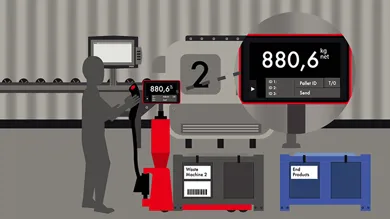 Overview of waste flow improvements
Benefits
No more overload
Using a RAVAS mobile weighing system, you will know whether a waste container has sufficient space before adding a batch to it. As a result, there will no longer be any issues with overloaded containers.
Better time management
Collect waste promptly and replace empty containers efficiently with RAVAS waste management solutions.
Accurate invoicing
The waste contractor invoices are easy to check as the weighing data of the mobile weighing system are communicated to the central computer system wirelessly.
Easy charging
It is also somewhat more straightforward and transparent if you wish to charge your customers' costs for waste processing.
Case studies
Charging customers for waste residue
Request Quote
Receive more information or a quote on the RAVAS Waste Management solution?