New features
Next generation iForks
iForks, the hugely successful RAVAS scale forks, have moved into their next generation. With only 2.16 in. fork height and no external components on the fork shank, iForks-32 looks more and more like standard lift truck forks. Designed with the new-upgraded indicators (3100 or 3200), the iForks-32 offers attractive new features, like standard Bluetooth connectivity.
Watch video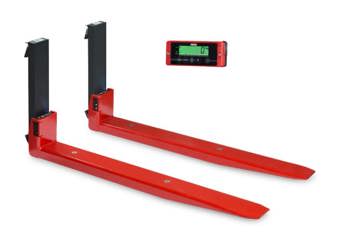 Wireless forklift truck scale
Main benefits
Li-ion battery packs
The power supply of the forks comes from compact rechargeable Li-ion battery packs. Each fork has its own battery pack with 75 hours of continuous use.
Easy fit for fork positioners
The changes to batteries and Bluetooth modules and eliminating the cover plates leave no external components on the fork shank, making iForks-32 even easier to fit onto fork positioners.
Bluetooth
Bluetooth is a standard feature on the 3100 and 3200 indicators, providing connectivity to tablets and smartphones. In addition, the RAVAS WeightsApp can act as a remote display and remote control for the scale, allowing you to download weighing data.
Mast tilt compensation
The 3100 and 3200 indicator has automatic tilt compensation to automatically correct weight errors when the mast tilts, and the forks are not in a horizontal position. In addition, the instrument automatically logs tip loads and overloads.
How to Calibrate iForks
iForks are mobile weighing scales for forklifts designed to provide real-time data to the operator. To properly using the benefits of iForks Bluetooth technology and mobile weighing capabilities, the iForks need to be properly calibrated. Here is a step-by-step guide to properly calibrating your iForks so they can 100% set up for your operation.
How to Properly Calibrate iForks
Optimize cross docking in LTL and 3PL logistics with iForks-32
One of RAVAS' logistic customers was interested in establishing an investment that weighed their product efficiently and provided real-time data of each inbound to their WMS system. Without any impact on their cross dock operations nor WMS system. Read more about the solution RAVAS provided for this logistic supplier to increase revenues.
Read case study
The iForks-32 XT - Designed for Easy Entrance
The RAVAS iForks-32 XT is a thinner version of the iForks-32. With a reduced fork height of only 1.77 inches, the iForks-32 XT is the perfect solution for containers with low openings, low pallets, and damaged pallets.
The forks measure 1.77 inches x 6.1 inches in cross-section and are tested at 125% of the total during 1 million lifting cycles. The XT's are available for FEM2 trucks (up to 5,000 lbs lifting capacity).
Read more
Weighing capacity

2,500 kg, 3,000 kg or 5,000 kg

Graduation multirange

1-2 kg at 2,500 kg, 1-2 kg at 3,000 kg, 2-5 kg at 5,000 kg

Max. tolerance

0.1% of the load lifted

Protection class

IP65

Dimensions in mm

Dimensions depend on the weighing capacity. Download the techn specs for more information.

Functionality

Automatic and manual zero correction, gross/net weighing, totaling with sequence number, ID-code entry (5 digits), integrated level correction in the forks, Bluetooth 4.0 for RAVAS WeightsApp, tip loading error message with logging, sleep mode for the forks with automatic start-up, overload protection 200% on mechanical construction.
Technical Specifications iForks-32

Technical Specifications iForks-32 XT

Manual iForks-32 (XT)
Interested in iForks-32?
Ask our specialists for more information or a quote on the iForks-32.
Interested in iForks-32?
Ask our specialists for more information or a quote on the iForks-32.