RAVAS EXi series
Mobile weighing in hazardous environments
RAVAS offers explosion-proof solutions for hazardous environments from dosing with a hand pallet truck to data communication on a warehouse truck. All available with ATEX certification.

Our solutions consist of explosion-proof pallet jacks, flameproof forklifts for hazardous areas, and more. We provide explosion-proof solutions for various industries including:
Pharmaceutical
Chemical
Food and Beverage
RAVAS-226X
This explosion-proof hand pallet truck is ATEX certified and comes equipped with stainless steel fork shoes. Additionally, this unit is suitable for all industrial applications and has user-friendly options like a rotating indicator.
ProLine-Touch
This explosion-proof hand pallet truck is ideal for high-accuracy weighing due to the advanced FlexBolts technology. The ProLine-Touch also has Bluetooth capabilities for convenient data transfers to various applications like PCs outside of the hazardous area along with ATEX PDAs to nearby areas.
Learn more about our explosion proof hand pallet trucks below:
Dosing with EXi hand pallet truck scale
CML Europe (Cambridge Major Laboratories) produces chemical raw materials in small quantities for pharmaceutical companies. Mixing and dosing are done with an explosion-proof hand pallet truck scale to prevent harmful accidents from occurring.
Read more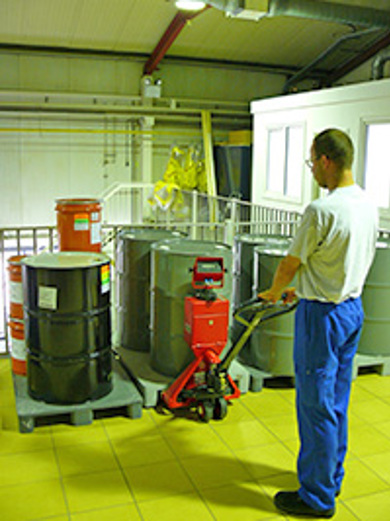 Request Quote
Receive more information or a quote on the RAVAS Explosion Proof solution?