'Waste is a lost cost. By weighing waste flows and monitoring the information, we create awareness. Together we try to reduce the mountain of waste as much as possible.'

- WIM COOLS, PRODUCTION LEADER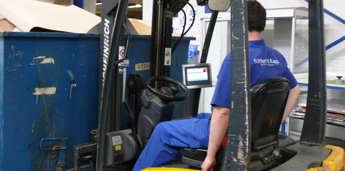 An accurate picture of waste flows
How does it work? The Jungheinrich EFG 216 forklift truck picks up a container with a known tare weight. The indicator display may show: L01, tare weight 50 kg. The container is loaded with materials from packaging products. The weight in the display goes up. The iForks wireless scale both weighs the container and transmits the weight data to the ERP system via wireless connection. The data can be monitored on an office PC, in 'PC Read It', showing  exactly how much waste is produced on each production line. Wim Cools: 'We capture waste flow weight data per production step, per day, and we link them to the order volume in production that day. The goal of weighing waste flows is to accurately monitor those flows and to measure the effect of improvement measures that we implement." 
Presenting data
'Waste is a lost cost, so it's all the more important to keep waste production as low as possible. This can be monitored by using weight information. By weighing all waste flows and by presenting the data, we create awareness. Together we try to reduce the mountain of waste as much as possible.
No more floor scales
Next to iForks, Smurfit Kappa van Mierlo still weighs on a fixed floor scale. But the advantages of iForks over a floor scale are so significant, that Smurfit has decided to scrap the floor scale and order more iForks.
COMPANY
Smurfit Kappa

LOCATION
Turnhout, Belgium

APPLICATION
Controlling waste flows

Controlling waste flows
Every production process generates rest materials and waste. These waste materials are either recycled into the production process or removed and destroyed. These procedures are often expensive, making reduction of waste flows an important issue. Monitoring waste flows, i.e. knowing how much waste is produced at each spot in the production line, is the first step towards controlling and minimizing waste flows. With a mobile scale on the pallet truck or forklift truck that removes the waste material, you can efficiently measure waste production anywhere in production, finding out which processes should be optimized.