"RAVAS weighing systems offer us mobility, flexibility and reliability."

- A. REICHERT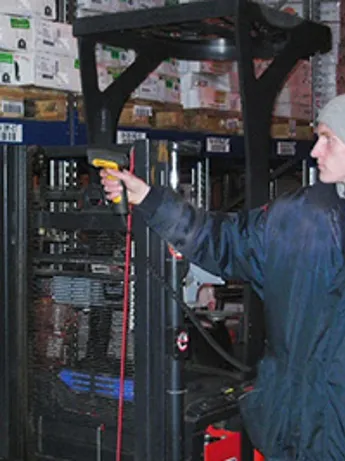 Goal: avoid picking errors
Frigo coldstore Logistics stores, repacks and ships frozen products; such as meat, fish and vegetables. All the goods are supplied from over the world. Most of Frigo's customers are established in Europe. The stores contain 23,000 pallet places; 2,000 cold store locations (0°C/ 32°F) and 21,000 freezer locations with a temperature between -50°C/ -71°F to -60°/ -82°F).
The customer sends an order to Frigo. All client orders are entered into the WMS. The WMS-system transfers the data to the data terminal on the order picking truck, which displays the order lines for the operator. All shifts last 8 hours and in that time every person finishes 100 to 140 order lines. Each order line contains a picking job of approximately 5 to 10 boxes.
Reduce picking errors
The operator drives to the first location, scans the article and puts the required amount on the truck. The RAVAS-weighing system compares the weight of the goods on the truck with the weight of the product that is entered in the WMS. Only after the order line on the data terminal is approved and checked by the RAVAS-weighing system the next order line is made available to be picked, therefore, avoiding picking errors. In addition, to further avoid picking errors, there's another check by the serial data interface.
Complaints reduced drastically
Previously they picked all orders manually. There were a lot of mistakes with shipments and packages containing incorrect picks. Now Frigo Coldstore Logistics saves a lot of time with RAVAS weighing systems. Moreover, the amount of complaints has reduced dramatically.
COMPANY
Frigo Coldstore Logistics

LOCATION
Hamburg, Germany

APPLICATION
Order picking

Order picking
In order picking performance comes down to two things: speed and accuracy. Errors mean a burden on the organisation, because they cost time, money and goodwill. Weighing on order picking trucks helps preventing picking errors. If an error is signaled, the order picker can react immediately and correct the error where the cost is lowest: at the picking slot. If the integrated scale is used in its counting mode, the order picker can also read on the display how many articles in the order line he has picked. This will raise his handling speed and reduce the opportunity for counting errors.