Your weighing system must be Legal for Trade, a certification authorized by the National Type Evaluation Program (NTEP), if you want to bill your customers by weight. NTEP certification ensures that scales and other weighing equipment have been tested and evaluated to meet all government standards and requirements. The National Institute of Standards and Technology (NIST) sets government standards in the United States. The NIST standards include capacity, accuracy, effects on the scale from temperature and humidity, and labeling. 
Requirements for a verified weighing system
Legal for Trade mobile weighing systems can be installed on all warehouse truck and forklift models. RAVAS pallet trucks and other makes and models come equipped with certified weighing systems suitable for weight-based invoicing.
The weighing system components undergo testing for various items, such as operating under varying temperatures, electromagnetic radiation, security, and the accuracy of weighing under these conditions. In addition, every Legal for Trade weighing system includes a level switch that switches off the display if the scale tilts more than two degrees. This feature prevents weighing errors. Furthermore, the weight of materials must be readable by the operator from a display.
Inspection of your weighing system
The NTEP Legal for Trade certification process includes weight verification and system adjustments as needed. Weights determine the weighing system's accuracy and reveal the source of any discrepancies. If discrepancies are found, adjustments are made so that the weighing system meets the standard.
Every verified weighing system receives a NTEP certificate. This certificate states, among other things, the name of the manufacturer, the product, the serial number, the approval number under which the product was certified, the standards according to which the weighing system was checked and stamped, and the gravity factor with which the initial check was completed.
Blog: Why you want to invoice customers based on weighted weight
Have you ever thought about mobile weighing to optimise your logistics processes? Thanks to our solutions, you are not only flexible in your controls. RAVAS also enables you to save time and money by invoicing your customers based on weight thanks to our Legal for Trade solutions.
Read the blog
How do you recognize a calibrated weighing system?
Each NTEP-approved scale has an NTEP certificate or conformance number listed on it so that your local inspector can obtain a copy of the conformance certificate and verify that the brand and model of your scale were manufactured within NIST standards.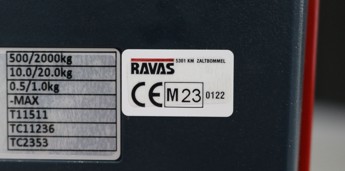 How often should a legal for trade weighing system be checked?
The rules for verifying a legal for trade weighing system differ per country. Government agencies check that weighing systems used to invoice customers by weight meet legally required accuracy standards. Your responsibility as a user is to ensure that your scales remain within the required accuracy. An annual check is recommended to ensure a weighing system is in conformance and properly calibrated. RAVAS prefers to schedule reinspections simultaneously with other maintenance on the weighing systems to avoid inconveniencing our customers. 
Legal for Trade reinspections may only be carried out by a representative of a certified metrological institute. The reinspections can be done by a RAVAS representative or by another accredited organization. 
Would you like to make an appointment for maintenance and a reinspection of your system? Don't hesitate to get in touch with our Service department. 
Weight-based invoicing with your existing trucks
RAVAS mobile weighing systems are compatible with all makes and models of warehouse trucks and forklift trucks. We can also assess your current warehouse truck fleet to determine if they can be equipped with a Legal for Trade mobile weighing system. 
Contact our experts to learn how to put weight-based invoicing within reach for you, too.
Learn more about our Mobile Weighing technology through our blogs
Through blogs, videos and other items, discover how a mobile weighing system can make your processes more efficient and cost-effective, generate management information, monitor the quality of your products and services and promote customer satisfaction.
Availability and compatibility
Sales partners
RAVAS works with worldwide sales partners. Here's a selection of OEM brands.
Weight-based invoicing thanks to a Legal for Trade weighing system
Would you please fill in the fields to receive more information on RAVAS products & solutions?
Interested in more Information?
Ask our specialists for more information or a quote.