Focus on hygiene

This stainless steel hand pallet jack scale is built according to GMP norms. All welds are continuous and polished, all surfaces electro polished. The fork surfaces are completely closed, the underside of the forks are open, to prevent the accumulation of moisture or substances. All bearings on the truck are made of lubrication free polymers. The hydraulics contain food grade oil. The rechargeable battery packs are placed in a special closed compartment.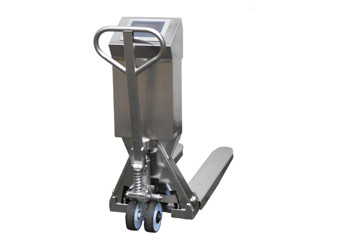 Built according to GMP norms
Highly accurate weighing
Touch screen indicator
The RAVAS-Touch GMP is named after a touch screen indicator that offers functional programs for recipe weighing, dosing, and entry and registration of product-IDs.
High accuracy
Due to the built-in patented FlexBolts, weights are measured in increments of 100 gr. More so, if the scale capacity is limited to 1,000 kg, in 50 gr increments.
Connectivity
Connectivity via Bluetooth or WiFi enables data transfer to an ERP system for quality assurance and traceability. For off-line data capture, a USB connector is installed in the battery compartment.
Advanced scale functions
In addition to the touch screen indicator's advanced functional programs, the scale can be programmed with customer-specific functions to fit the user's special application.
De RAVAS Touch GMP weighing pallet truck
The RAVAS Touch GMP is specifically designed for use in the food and pharmaceutical industries. This highly accurate, stainless steel, hand pallet truck scale is built to GMP standards.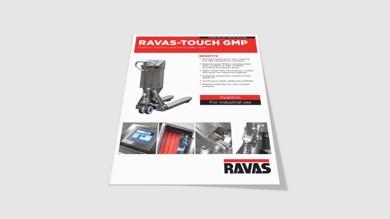 Weighing capacity

4,409.25 lbs.

Graduation multirange

0-440.925 lbs, 440.925-1,102.31 lbs, 440.925-4,409.245 lbs

Max. tolerance

0.08% of the load lifted

Protection class

Load cells IP67, indicator IP65

Dimensions

Fork length: 45 inches Fork Width: 6.69 inches Fork Height: 3.54 inches Space Underneath Fork: 0.86 inches Maximum Fork Height: 7.08 inches Lifting Height: 3.54 inches Width Over Forks: 21.25 inches

Functionality

Automatic and manual zero correction, gross/net weighing, automatic and manual tare via touch screen, totaling with sequence number, piece counting by sampling, or entry of piece weights. error messages in the display, USB port for data capture
Contact us for a no-obligation quote or for advice
Ask an expert!
Ask our specialists for more information or a quote today.

Ask an expert!
Ask our specialists for more information or a quote today.