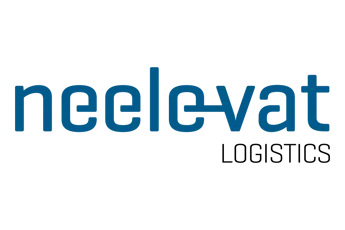 about
Neele-Vat
Neele-Vat is a  full-service logistic service provider, with  600 employees and 250 million euro turn- over  in 2015. The company offers its customers an all-round services package, from transport through the air and over sea, to warehousing and physical distribution.  Neele-Vat has offices and operates warehouses in China, Russia, Italy, Finland and Poland, but the Rotterdam port area serves as the center for shipping sea freight. From several warehouses around Rotterdam and on the  Maasvlakte several hundred containers put to sea every week. From July 1st of 2016, all these containers must be weighed, following the changes in SOLAS regulations.  
The recent SOLAS amendments require forwarders to declare the gross weight of containers to the shipping line, before the container is loaded onboard. The weight information is used to create stowage plans for the huge container ships. Two methods are officially allowed to determine the VGM (Verified Gross Mass) of containers: weighing the complete packed container (Method #1), or weighing all individual items in the container and compute the total weight (Method #2).
We discuss the new SOLAS regulations with René Bongers (Director) and Dennis Kruit (Warehouse Manager). They explain why they chose SOLAS Method #2.
As warehouse manager, Dennis Kruit was the first at Neele-Vat to be confronted with the practical aspects of the SOLAS weight requirements. To my question why the logistics industry is reacting so late, after all we are only one month away from the implementation on July 2016, he answers: "We just had another session with the Port Authorities, the rules are only now becoming clear, with one month to go."
René Bongers takes over. "The method we were looking for had to be both fast and accurate. We work with renowned customers, they won't have any tricks or complications. In certain countries they put a lock on it if your container weight is wrong. Therefore the process is everything." Dennis Kruit agrees: "You want to avoid errors at any cost. Bringing back a container from the terminal takes four days. There's extra moves, you have to deal with customs, your reference number is cancelled, it's all extra cost." Neele-Vat chose SOLAS Method #2, by weighing individual LCL shipments on their forklift trucks.
"No VGM = No Load, is what they say now: if the weight is not known, the container is not loaded onboard. We have to declare the weight to the terminal and the carrier, we have until a day before departure to do so. A 5% tolerance is allowed. If your VGM is wrong, you get fined."
To get an idea of what the internal logistics of SOLAS Method #2 will look like at Neele-Vat,  Dennis Kruit takes us to the warehouse across Marco Polo street. The front of the warehouse consists of endless rows of numbered loading bays with docked containers. Freight trucks in spotless blue and white roll back and forth. Dressed in safety vests, a different color for the visitor, we are allowed into the building. Here forklifts load palletized goods into containers at a frenzied pace. Every now and then they stop to receive new jobs on their onboard PDAs.
Dennis explains that his forklifts will be equipped with RAVAS iForks, in order to weigh all inbound LCL shipments while offloading the freight truck, without any loss of time. The weight of the individual shipments is then entered into the warehouse management system on. When the loading lists for the containers are compiled later on, the WMS simply adds up the weights of the individual shipments and adds the tare weight of the container. Thus the gross weight is known before any pallet is loaded onto the container. "We are ISO and AEO certified, so Method #2 will be embedded in our existing quality assurance system," Dennis adds.
For companies that consolidate LCL shipments in containers, the use of Method #2 brings important additional advantages. Weighing individual shipments within a container provides additional and more detailed information and creates opportunities for process improvements. This in turn leads to better ROI on SOLAS investments.
René Bongers explains how SOLAS not only imposes obligations, but also creates opportunities: "We see a SOLAS business case. We will be state of the art, work more accurately. Our customers appreciate this. We will link all information directly to our management software, today a lot is still done manually, which eats up money and manpower. We will be delivering more value. We hope this will help us make a difference in the market."
Neele-Vat is prepared for SOLAS.   
Subscribe now!
Subscribe to all RAVAS News now.
Subscribe now!
Subscribe to all RAVAS News now.