A perfect weighing system for electric pallet trucks and orderpicktrucks
The RAVAS RPW EL mobile weighing system can be built into all makes and models of electric pallet trucks and order pick trucks. Confused about the best time to add mobile weighing technology to your truck? Do not. Whether you are about to purchase one or more new trucks or you already own a fleet of trucks, our mobile weighing solutions are available for both retrofit and factory fit.
To make a truck weighing, the fork construction of the truck is mechanically modified so that scale components can be mounted with only 5 mm extra fork height. A so-called weighing indicator determines which functions are available to you, but basically the indicator always ensures that the display shows the weight placed on the weighing forks and, if desired, communicates this with a truck terminal or warehouse management system. Every lifted load is immediately weighed and communicated.
The RPW EL weighing system is extremely suitable for checkweighing and the prevention of errors in order picking and is available with various options if desired. Do you want to be able to invoice based on the weighed weight? Then choose a calibrated version. Do you weigh in an EX zone or in a food environment? The RPW EL is also available in an explosion-proof or stainless steel version.
As you can see, the RPW EL has a large number of basic functionalities and the system is also based on configure your needs. View the technical specifications of the system below. Do you want more information? Then contact our specialists.
Do you want more information? Then contact our specialists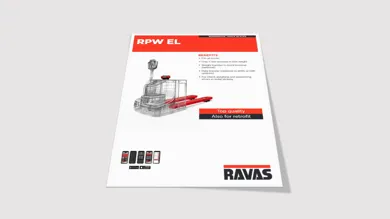 Capacity

Equalizes the lifting capacity of the truck

Graduation multirange

0.5 kg at 500 kg; 1 kg at Q-max

Scale tolerance

0.1% of the load lifted

Protection class

Load cells IP67, indicator IP65

Power supply

From truck battery
Data management through our mobile weighing solutions
Creating Intelligence through RAVAS mobile weighing solutions
Our innovative mobile weighing solutions help you to organize your business processes more intelligently. How? Thanks to data communication and integration via weighing systems such as the RAVAS RPW EL system, your trucks are in direct contact with your ERP, TMS, WMS or other software platform and collect data 24 hours a day. This data enables you to continuously check whether what you are doing is correct and to determine which processes can be done faster and better, in order to optimize your supply chain.
No situation is the same. RAVAS therefore offers various software solutions for data management that help you optimize your data flows. Curious about how our solutions help you create intelligence for your logistics or industrial organization? Read more about data management through our mobile weighing solutions.
Lees meer over datamanagement
Optimize cross docking in LTL and 3PL logistics with the RPW EL scale
One of RAVAS' logistic customers was interested in establishing an investment that weighed their product efficiently and provided real-time data of each inbound to their WMS system. Without any impact on their cross dock operations nor WMS system. Read more about the solution RAVAS provided for this logistic supplier to increase revenues.
Read case study
Ask an expert!
Would you like to request a quote or more information about the RAVAS RPW EL?
Contact us
Ask an expert!
Receive more information or a quote on the RAVAS RPW EL? 
Ask an expert!
Receive more information or a quote on the RAVAS RPW EL? 
Availability and compatibility
Sales partners
RAVAS works with worldwide sales partners. Here's a selection of OEM brands.