RAVAS RPW EL with multiple weighing system
Double your performance with a RAVAS Double Scale weighing system
The RAVAS RPW EL weighing system is an excellent solution for increasing efficiency during, for example, order picking, cross-docking or determining expedition weights. But what do you think when a very practical addition to this RPW EL weighing solution enables you to double the efficiency to be achieved. RAVAS makes this possible thanks to the RAVAS Double Scale
With the RAVAS Double Scale you use an RPW EL solution but with two weighing systems. Thanks to the extra long weighing forks, you can place two separate orders on a single truck. The system has two weighing systems so that you can weigh the two pallets separately. The two weighing systems communicate separately but in real time with your WMS, TMS or ERP thanks to a wired RS232 or wireless WiFi connection.
Three or four weighing systems
Go one step further in achieving more efficiency. The RAVAS mobile weighing solution is also available with three or four weighing systems. Also based on the RPW EL solution, but with weighing forks that are so long that you can weigh and process three or four orders at the same time.
Are you curious how our single, double or multiple weighing systems can help you achieve more efficiency? Then contact our specialists.
Double scale
Pick 2 orders in 1 run
Double scale
Prevent order pick errors
WMS or ERP connectivity
Accurate to 100 grams
Double fork length

Fork length of the double scale: 2 x 1,300 mm

Multirange graduation

0.1/0.2/0.5 kg up to 1,250 kg per scale

Type of indicator

Available with 2 separate 2100 indicators or one 6100 indicator with Dual Analogue Board

Connectivity

Via WiFi or RS232 cable connection

Also available

Triple scales
Order picking with double weighing capacity at DSV
RAVAS has delivered three RPW EL Double scale order pick trucks to 3PL DSV in Germany for a Pick by Weight pilot project. DSV will use the weight on the scale to check each picking line for errors. The weight is being displayed as a QR code, which is scanned by the order picking employee. The WMS system of DSV then automatically checks if the weight on the scale matches the theoretical weight of the products that need to be picked. With the RAVAS Pick by Weight solution, all relevant information on the weight of your material flows is made available to any WMS in real-time, fast and efficiently.
Pick by Weight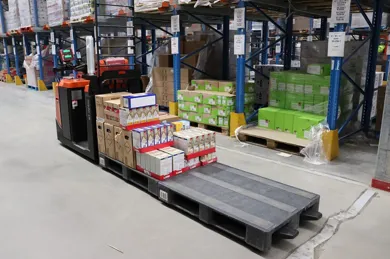 Ask an expert!
Would you like to request a quote or more information about the RAVAS Double Scale?
Contact us
Ask an expert!
Receive more information or a quote on the RAVAS Double Scale? 
Ask an expert!
Receive more information or a quote on the RAVAS Double Scale? 
Availability and compatibility
Sales partners
RAVAS works with worldwide sales partners. Here's a selection of OEM brands.