Benefits
Extended scale functions
High accuracy
With a max. tolerance of 0,1% of the load on the forks the RAVAS-3200 is suitable for use in warehouses and production environments, for example for mixing and batching.
Li-ion battery pack
The RAVAS-3200 is powered by a Li-ion battery for 75 working hours. This can be recharged with a separate charger.
Option: OIML
Optionally, the weighing hand pallet truck RAVAS-3200 can be OIML approved for commercial transactions. This allows you to invoice your customer by weight. 
Option: printer
The RAVAS-3200 can be equipped with a built-in printer that prints weights, totals, a numerical ID, date/time and article or order number.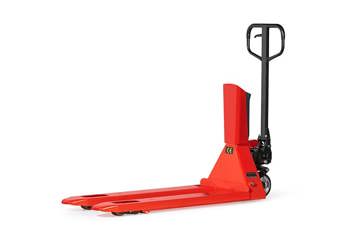 Weighing capacity

2.000 kg

Graduation multirange

0-200 kg: 0,2 kg, 200-500 kg: 0,5 kg, 500-2.000 kg: 1 kg

Max. tolerance

0,1% of the load lifted

Protection class

Load cells IP67, indicator IP65

Dimensions in mm

Fork length: 1150, fork width: 170, minimum fork height: 90, space underneath fork: 22, maximum fork height: 180, lifting height: 90, width over forks: 540

Functionality

Automatic and manual zero correction, gross/net weighing, automatic and manual tare, totalling with sequence number, Bluetooth 4.0 for RAVAS WeightsApp, automatic switch-off after 30 minutes of non-use, kg/lb toggle

Option

Legal for trade version, OIML III, built-in thermal printer, relay setpoint switch for automatic dosing, multirange graduation 0,1/0,2/0,5 kg, stainless steel fork shoes, stainless steel or galvanized truck, pivoting indicator: readout from all angles during dosing, footbrake or handbrake, different fork dimensions, different steering or loading wheels
Tech specs RAVAS-3200F Li

Manual RAVAS-3200F
Request quote
Receive more information or a quote on the RAVAS-3200? 
Request quote
Receive more information or a quote on the RAVAS-3200?