RAVAS ProLine Touch
Programmable touch screen indicator
Extreme accuracy
Patented Flexi-pins, which absorb torque forces exerted on the forks, allow you to transfer a load on the forks undistorted onto the load cells. This enables you to measure with high accuracy in 100 gram increments.
Touch screen indicator
The touch screen indicator has a programmable user interface, offering optimal user friendliness. The touch screen leads the user through the application in a clear and unequivocal way.
Connectivity
The indicator has a USB port for data capture and can communicate with WMS or ERP software programs via Bluetooth or WiFi.
Applications
The ProLine Touch is suited for use in food, pharma and chemical industries, in parts supply chains, postal companies and banks.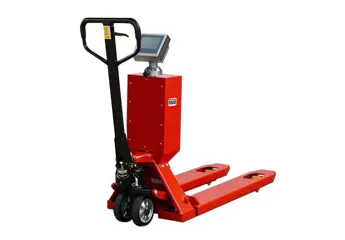 De Proline Touch weighing pallet truck
A hi-tech weighing hand pallet truck, excellent for high precision use. View the extensive benefits, functions, technical specifications and options.
Download the ProLine Touch Technical Specs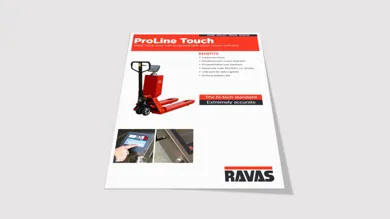 Weighing capacity

2,000 kg

Multirange graduation

0-200 kg: 0.1 kg, 200-400 kg: 0.2 kg, 400-2,000 kg: 0.5 kg

Max. tolerance

0.08% of the load lifted

Dimensions (mm)

Fork length: 1150, fork width: 160, minimum fork height: 90, maximum fork height: 205, lifting height: 115, width over forks: 550

Functionality

Automatic and manual zero correction, gross/net weighing, automatic and manual tare via touch screen, totalling with sequence number, piece counting by sampling or calculation of piece weights, error messages in display.

Options

Client specific software, 2 extra exchangeable batteries, built-in thermal printer, Bluetooth or WLAN output, legal for trade version, OIML III, 0.1 kg graduation, maximum 1,000 kg capacity, stainless steel fork shoes or completely in stainless steel
Contact us for a no-obligation quote or for advice
Ask an expert!
Receive more information or a quote on the ProLine Touch? 
Ask an expert!
Receive more information or a quote on the ProLine Touch?