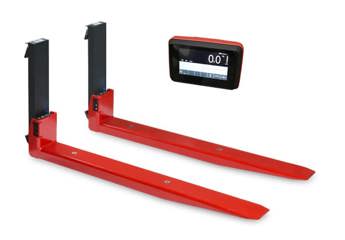 RAVAS iForks-52
Main benefits
Mast tilt displayed
The RAVAS iForks-52 offer a number of smart extras compared to the iForks-32. The driver display shows the live discharge status of the fork batteries. It also shows the tilt of the mast in its graphical display, making it easy to put the mast in vertical position for the most accurate weighing. And it shows the weight distribution of the load over the forks, advising the driver on how to avoid dangerous tip and side loads.
Piece counting
The touch screen display is very intuitive and can be personalized. The lift truck driver can enlarge the field that shows the weight on the forks, or rearrange the soft keys in the display to his or her own preference. And the 5200 display offers many extra functions. Piece counting for example, by entering piece weight, from the piece weight memory, piece weight calculation and by reference weighing scale
Weighing capacity

2,500 kg, 3,000 kg or 5,000 kg

Graduation multirange

1-2 kg at 2,500 kg, 1-2 kg at 3,000 kg, 2-5 kg at 5,000 kg

System tolerance

0.1% of the load lifted

Protection class

IP65 / NEMA 4

Dimensions indicator

L x B x H = 85 x 165 x 115 mm (excl. bracket)

Functionality

Automatic and manual zero correction, gross/net weighing, ID-code entry for max. 4 codes with 10 preset codes (each max. 14 characters), 10 totalizing registers, integrated level correction in the forks, counting functionality, tip and side loading error messages with logging, overload protection 200% on mechanical construction.

Data communication

Weighing data can be stored in the indicator and then transferred to Excel via USB stick, USB input/output or barcode scanner with USB connection, 4 communication ports: RS232 for printer, USB for data transfer, free COM 1 for WiFi, Bluetooth or RS232, free COM 2 for WiFi or RS232, equipped with Bluetooth 4.0 for RAVAS WeightsApp.

Options

OIML III legal for trade version/type approval, different fork lengths, power regulator for IC-trucks, thermal or matrix printer, long-drop forks for special type of trucks, wide claws for use in combination with rotator or fork positioners, RAVAS data integration and/or collector software.
Tech specs iForks-52

Manual iForks-52
Request quote
Receive more information or a quote on the iForks-52? 
Request quote
Receive more information or a quote on the iForks-52? 
Availability and compatibility
Sales partners
RAVAS works with worldwide sales partners. Here's a selection of OEM brands.