About BRB
BRB BV is a wholesale and production company in silicones, lubricants, additives and chemicals. The graphic industry and condom producers buy silicones. Lubricants and transmission oils are sold to the automotive industry. For several OEM's BRB produces cooling fluids and anti-freeze, all together 3500 tons per year. For a large oil company BRB mixes raw materials that the company supplies.
Intended results
In the early years BRB used a U-beam floor scale. That was fine as long as there weren't too many employees: if someone wanted to weigh, he walked over to the floor scale. However, the company grew explosively and more employees were hired. Soon they were in each other's way, causing queues at the floor scale. A lot of time was lost. That had to change.
Investment in hardware and software
To achieve the intended results, BRB has invested in 12 RAVAS hand pallet truck scales. Some of them are explosion proof and some are Legal for Trade, meaning that they are suitable for commercial transactions.
BRB uses mobile scales all over the company
How does it work?
Today BRB operates twelve pallet truck scales, two of which in explosion proof version. Three Legal for Trade units are used for filling commercial packaging. Incoming silicones or oils are dosed into IBC-containers, straight from the tanker truck. The containers are either stored or used in the mixing row. Semi-finished products up to 1,000 litre are prepared in IBC-containers. Ingredients are mixed by weight, according to a recipe. During the procedure the mixer can see on the rotating indicator how much of the ingredient has been dosed and how much more needs to be added. The pallet truck scales are also used to dose the finished product into trade packaging. The operator places empty 25, 50 or 60 litre buckets onto the pallet truck scales and doses the proper amounts by the weight on the indicator display. Finally BRB also uses the mobile scales in the warehouse. Vossen: "The pallet truck scales are also very handy for checking how much raw material is left in the barrels. So you see: the RAVAS pallet truck scales offer us numerous advantages."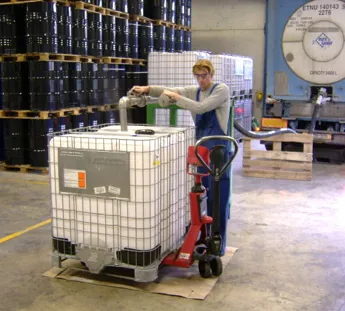 Matthijs Vossen, Production Leader
"The pallet truck scales turned out to be tremendously useful: you are no longer waiting for each other and there's some extra space in the factory."
About the application
Filling, mixing & stock control
Accurate filling of drums, containers and big bags means there is no unnecessary loss of material. By weighing the containers during transport on a pallet truck, forklift or stacker, you achieve a higher efficiency and flexibility in your filling processes. It will also help you to simplify logistics and reduce the risk of damages and product loss, since it is no longer necessary to drive the materials between warehouse and scale. The width of the RAVAS product range allows you to configure your mobile scale according to your specific needs. You can choose for a legal for trade version if you fill retail packaging, or a stainless steel version if you dose corrosive substances. A rotating scale indicator allows you to read off the weight from all angles.
Read more about filling
Suitable products
For filling