Business case
Astra Sweets
At its main plant in Turnhout, the Belgian company produces 300 different kinds of sweets. All this confectionery is distributed under its own brand name to supermarkets, drug stores, petrol stations and wholesalers, or under private label to a range of major customers in Belgium and abroad. Anyone who is shown around the production department at Astra Sweets will see cheerfully coloured sweets rolling out of machines. The sweets are stacked in trays by robots and transported on pallets by trucks to the intermediate storage facility.

Patrick Peeters, Key User Production, explains: "Our candy is poured into starch moulds. Then it goes to a drying room or refrigeration. The finishing touches are applied after 36 hours. The semi-manufactured product then flows into trays. These go on a pallet to the intermediate warehouse, where, after acclimatisation, the sweets are finally packed according to customer order."
Current situation
Buffer stock management left room for improvement, says Stefan Verbeken, Manager Planning and Material Supply at Astra Sweets. "We produce on three casting lines. Every production process has its startup losses. Add failures during a run and you can see why real output can differ significantly from the expected, theoretical output. We knew the input of raw materials of course, but we couldn't measure the exact yield at the end of the line. Therefore we couldn't be sure how much of any semi-finished product was in stock at the buffer warehouse. The discrepancies between the stock in our ERP and the stock in our warehouse could run into several Tons, depending on the size of the production run." 
The uncertainties in produced buffer stocks of semi-finished product led to inefficiencies and extra cost. In order to keep product switches on the lines to a minimum, all customer orders for e.g. cola bottles are grouped in a single production run, produced and then transported to the buffer warehouse. "If a semi-finished product was planned for multiple packaging orders, then this was based on the theoretical yield, with the risk that for some orders too much and for others too little was packaged. This caused last minute changes in production planning to avoid delivery problems. Extra switches in packaging runs and small, corrective casting runs added unnecessary cost. At one point we started doing daily inventories in the buffer warehouse to avoid this, spending a lot of man-hours."     
Investment in hardware and software
Astra Sweets invested in four weighing systems with WiFi, two RCS Hy-Q on double fork stackers and two RPW EL on electric pallet trucks.
How does it work?
Er werd een verbeterproject opgestart: alle snoep dat van de productielijnen kwam moest gewogen worden. Verschillende opties werden overwogen: weegsystemen inbouwen in de productielijnen bleek duur, wegen op een vloerweegschaal tijdrovend en niet altijd veilig vanwege logistieke bottlenecks in het interne verkeer. Patrick Peeters had ervaring met RAVAS bij een vorige werkgever en stelde voor mobiel te wegen op de magazijntrucks die het intern transport vanaf de productielijnen naar het tussenmagazijn verzorgen. Stefan Verbeken: "Het bleek de meest efficiënte en meest kosteneffectieve oplossing."
Er werd een investeringsaanvraag opgestart, met een kosten- en batenanalyse als onderbouwing. De kosten bestonden uit vier weegsystemen, maar ook het vervangen van twee oudere trucks, omdat het volgens Astra Sweets kapitaalvernietiging zou zijn om een weegsysteem in te bouwen in trucks die nog maar enkele jaren levensduur had. Voeg daarbij een kostenpost aan aanpassingen aan Objective, het software programma dat de productielijnen aanstuurt. De baten wogen daar ruimschoots tegenop. Op dagelijkse magazijncontroles en allerhande correcties in inpak kon direct een halve FTE bespaard worden. Voeg daaraan toe: inpak op de juiste order, minder restanten en afval en minder correctieve gietruns. 
Patrick Peeters beschrijft het huidige proces: "We hebben nu vier trucks met weegsysteem. Zowel het weegsysteem als de handheld op de truck communiceert via ons WLAN netwerk met Objective. Als het halffabricaat van de productielijn komt, wordt het op de truck direct gewogen. De operator start het protocol op zijn handheld: hij geeft het nummer van de productielijn in en welk artikel het betreft. Vervolgens triggert hij Objective om bij het weegsysteem op de truck het gewicht op te vragen en zo is de data set compleet. Vanaf de handheld wordt een label met barcode geprint en de pallet gaat naar het tussenmagazijn."
Stefan Verbeken, Manager Planning & Material Supply
"At one point we started doing daily inventories to counter the problem. That cost us manpower we could have used profitably elsewhere. Using the RAVAS mobile scales we now generate real figures, and can manage on KPI's. This realized immediate cost savings, the investment in the weighing systems earned itself back in a short time."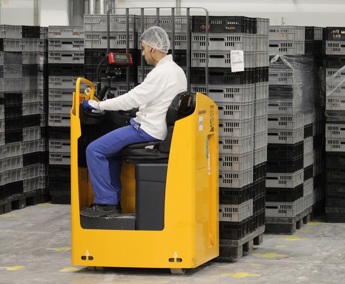 Results
Patrick Peeters: "The advantage of the integration between the weighing systems and Objective is that we can now compare the lines and see the results of the weighing systems. We only have 50 kg corrections on a monthly basis - which is extremely low compared to our monthly tonnage."
Stefan Verbeken: "The data goes from Objective to SAP. We now have real data after production. We can also do yield analyses per product and optimise from there. We can steer on KPIs. Packing planning can now be tuned much better to the needs of the customer. With the help of the RAVAS mobile weighing systems we have made a step forward in our production process." 
About the application
Stock control
With global supply chains that stretch across continents, with small stocks and just-in-time deliveries, companies have become very vulnerable to stock shortages. Shortages mean interrupted production processes, delays, loss of customer confidence. And they all come with a cost. With a mobile scale, connected to your ERP or WMS system, material flows can be monitored every time goods are moved: inbound goods, goods in and out of production, outbound goods. Without interrupting the process, mobile scales allow you to accurately control your stock, reduce stock levels and lower cost.
Suitable products
For stock control