RAVAS-2100L EXi
Explosion proof
Industrial applications
Suitable for industrial applications like filling, mixing and dosing in food, pharma and chemical industries.
ATEX certified
Standard ATEX certified and with stainless steel fork shoes and fully equipped for use in hazardous environments.
Options
Optionally available in full stainless steel, as Legal for trade version, OIML III, with a rotating indicator and big push buttons for use with gloves
Zone 1/21
The RAVAS-2100L EXi is suitable for mixing and batching applications in ATEX zone 1/21. Contact our experts in case of specific requirements.
De RAVAS-2100L EXi weighing pallet truck
A hi-tech weighing hand pallet truck, excellent for high precision use. View the extensive benefits, functions, technical specifications and options.
Download the RAVAS-2100L EXi Technical Specs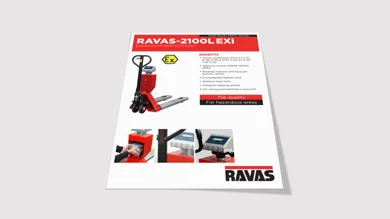 Weighing capacity

2,000 kg

Graduation multirange

0-200 kg: 0.2 kg, 200-500 kg: 0.5 kg, 500-2,000 kg: 1 kg

System certification

II 2 G Ex ib IIB T4 Gb & II 2 D Ex ib, IIIC T135°C Db, approval number DEKRA 13ATEX 004

Steering wheels

Antistatic

Battery

Intrinsically safe, rechargeable and exchangeable

Application

For mixing and batching in zone 1/21
CML Europe uses a RAVAS-2100L EXi for mixing and dosing
CML Europe produces chemical raw materials in small quantities for pharmaceutical companies. Mixing and dosing is done with a RAVAS-2100L EXi explosion proof hand pallet truck scale for ATEX zone 1&21. Read more about this specific application.
Read more
Contact us for a no-obligation quote or for advice
Ask an expert!
Receive more information or a quote on the RAVAS-2100 EXi? 
Ask an expert!
Receive more information or a quote on the RAVAS-2100 EXi?