Michael van Dijk is International Key Account Manager at RAVAS. He discusses the use of data with many other companies. In this blog, we join Michael to take a closer look at how to use data management to make your business processes more intelligent and profitable. 

Creating intelligence
Nowadays, logistics and industry are all about adding intelligence to processes, says Michael van Dijk. The margins are small. To be competitive, companies will have to make their business processes ever smarter. Mobile weighing technology is a highly effective way to achieve that. By adding weighing systems to your current warehouse and forklift trucks, or purchasing their already equipped counterparts, your data will be at your fingertips 24 hours a day. This is the ideal starting point for increasingly intelligent operations.
Is everything we are doing, correct?
Think of these smart business processes as more intelligent when it comes to flows of goods, smarter ways of loading trucks and preventing errors during order picking. By adding mobile weighing technology, you are constantly collecting data on weight, and in some cases volume. So essentially, the correctness of your work is checked continuously. For example, if a customer has entered an incorrect weight, you will be notified immediately while processing your incoming goods. During order picking, employees receive a signal on their display, telling them whether the weight of the picked goods matches the correct product and quantity as known in the ERP or WMS system. This avoids time-consuming and labour-intensive final checks.
Blog: Save time, space and money with a Mobile Weighing System
Curious about the 'how and what' of our Mobile Weighing Technology? Read this blog in which we explain how mobile weighing can save you time, money, space and manpower and how you can improve the efficiency of your intralogistics.
Read the blog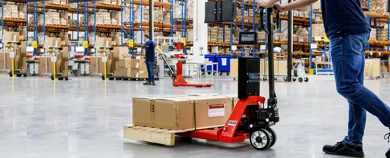 Which part of your logistics process would you like to make more efficient through data management?
Creating intelligence through mobile weighing systems can go as far as you like. For example, data management allows you to see which processes could be faster and better. Our customers use the data generated by our weighing systems to calculate optimal truck or aircraft loading, for example. By using weight data in an order-picking process, you can avoid picking errors. You can also use the weight to determine the structure of a pallet. In short, mobile weighing technology adds value at any time, whether the beginning of the logistics chain with incoming goods, halfway through the chain of cross-docking or order picking, or at the end when determining shipping weights, for example.
Quickly (re)earned
According to Michael, doing the right things the right way is more necessary than ever within logistics and industry. There is no room for losing time or money. This is what makes mobile weighing technology so interesting. It takes a relatively small investment to gather the most valuable information in the process flow that you then strategically act upon. This data management is a factual basis for making profitable business decisions. Overall, the return on investment in mobile weighing technology is quick, sometimes even within a few months. 
Data management is for large and small logistics companies
Although mainly the large logistics companies are currently making a quality change by investing in mobile weighing technology, it is certainly interesting for smaller companies. There is a suitable approach for all of your goals. Whether you're working with weighing hand pallet trucks or forklifts with weighing fork carriages; they all add value to your organisation through data collection. They are all connected to your software platforms via Wi-Fi or Bluetooth, allowing you to optimize your processes based on this data management.

But I already have excellent trucks...
Do you already have great pallet trucks, warehouse trucks and forklifts, but would you like to collect data via mobile weighing technology? No problem, mobile weighing technology can be fitted to all makes and models of trucks. And the fact that the possibilities that go along with mobile weighing are endless does not mean that this step has to be complicated. Michael van Dijk emphasises that there are appropriate systems for all businesses that will deliver the data you need.

Data management = getting smarter about doing business
In short, more companies recognize the importance of good data management. Doing business more intelligently is always the aim. Through mobile weighing technology, you have access to real-time data 24 hours a day. This offers many advantages. Think how much time is saved: employees tackle picking errors immediately. Think monetary gain: if a customer has specified an incorrect weight, you can directly pass this on and send an invoice based on the generated data. And above all, think long-term profit: based on all the data, it is very easy to make predictions and act on them strategically for your most profitable operations.
Data Management: the factual basis for smarter business processes
Would you please fill in the fields to receive more information on RAVAS products & solutions?
Interested in more Information?
Ask our specialists for more information or a quote.