An industrial scale is a scale specially designed and built for use in, for example, factory environments, production environments or warehouses and, thanks to its high weighing capacity, is widely used to weigh large and heavy products. These industrial scales are used in different industries and for different applications, where the accurate weighing of heavy and/or large objects is required. Industrial scales often have a high weighing capacity and are built with durable materials to withstand wear and tear, shock and vibration that are common in environments where the scale is used. 
Floor scales
A common industrial scale is the industrial floor scale. For many years, this has been the way many companies weigh their goods. The floor scale is placed in a central location in the warehouse or production hall, and when pallets or containers need to be weighed, operators drive up and down to the scale with a pallet truck or forklift. Although 'weighing' is an essential component for many companies to weigh incoming and outgoing goods or keep track of inventory, among other things, many companies actually experience the current way the floor scale is used as a bottleneck in their processes.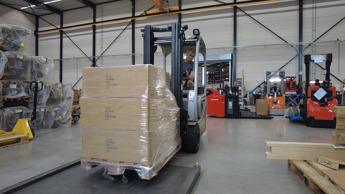 Blog: Mobile scales compared to a floor scale
For many years, the industrial floor scale was the go-to product for companies to weigh their goods. But is the floor scale still so efficient? Isn't a newer, mobile scale a much better way to keep track of your inventory?
Read the blog!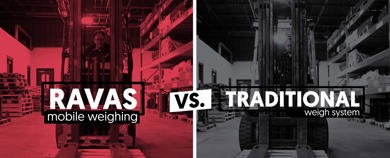 Disadvantages of industrial floor scales
Using a, relatively cheap, floor scale has a number of disadvantages besides advantages. First of all, the location of the floor scale is a problem for many companies. Operators drive up and down to the scales for every weighing action they need to perform. These countless logistical movements cost a lot of money. The energy or fuel consumption of your trucks is unnecessarily high in these expensive times. In addition, the space taken up by the floor scale is also inefficient. Including the approach route, this can quickly add up to 20 m². Space that becomes profitable again thanks to smarter weighing solutions such as a pallet truck or forklift truck with built-in weighing system.  And finally, every weighing moment is a separate action to be performed. By integrating weighing into your processes or optimising current processes, your employees will save unnecessary time.
By using mobile weighing on a truck to transport the pallets anyway, you save an average of 1.5 minutes per pallet weighed. A daily saving of 48 minutes or 200 man-hours per year per employee. 
Replace your inefficient and inflexible industrial scale with a mobile weighing system
A weighing system built onto your pallet truck or forklift makes your internal logistics much more efficient. You weigh where and when you want. During internal transport, for example. This gives you flexibility in your checks and saves time, space and manpower.  
It is good to know that mobile weighing solutions can also be applied to your current trucks and can be built in all makes and models of pallet trucks and trucks. Whether you want to make use of extreme accuracy for mixing or dosing recipes for example, you are looking for a solution to make your order picking process more efficient or you are looking for indestructible top quality for weights up to 99,000 kg.  
Want to know how mobile weighing technology allows you to work twice as fast as with your current old-fashioned floor scale or warehouse scale? Read our blog Mobile scale compared to a floor scale, watch the accompanying video and judge for yourself.
Availability and compatibility
Sales partners
RAVAS works with worldwide sales partners. Here's a selection of OEM brands.
A Mobile Weighing System as the perfect alternative to your inefficient Industrial Scale
Would you please fill in the fields to receive more information on RAVAS products & solutions?
Interested in more Information?
Ask our specialists for more information or a quote.