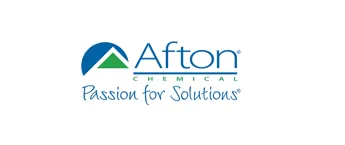 About Afton Chemical
Afton Chemical Corporation is part of the NewMarket Corporation family of companies, and has been working in the fuel and lubricant additives marketplace for over 90 years.
Intended results
For Afton Chemical, accurate weighing and dosing without deviations is of major importance for being able to match the customer's quality demands. Previously, Afton Chemical used a wired weighing fork carriage. Due to rough conditions and shocks, this cable broke regularly. RAVAS therefore developed a Bluetooth version of the weighing fork board to suit Afton Chemical's application. 
Investment
To achieve the intended results, Afton Chemical has invested in accurate weighing carriage plates with Bluetooth module.
How does it work?
The grounds of the Belgian Afton site in Feluy are littered with 1000 m3 of silo's, storing oils and fuels. 'On demand' from its customers, Afton mixes gear oils, lubricants, friction reducers, fuels and engine oils: small amounts of additives are mixed with the oils in the silos to create a final product that is sold in IBC's or complete truck loads. Two forklift trucks drive back and forth between the silos, carrying drums of additives in special clamps. The clamps are mounted on RAVAS carriage plate scales that continuously measure the weight of the content of the drums. From the drum additives are pumped into the silo, dosing by the weight on the RAVAS display. For accurate dosing, the forklift has a second, large weight display mounted on the outside of the cabin. Both in and outside the truck, the forklift driver can read off how much additive has been pumped into the silo and how much is left in the drum. Nicolas Grégoire: "The weighing forklift trucks give us so much flexibility: from the trucks we can mix additives into a silo anywhere on the grounds."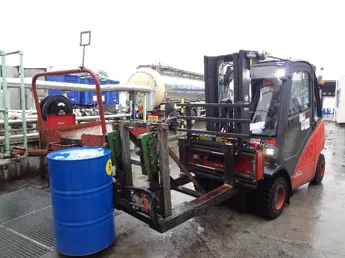 Nicolas Grégoire, Maintenance Engineering Specialist
"For some mixes only 20 kilos of additives are required on a 5.000 liter silo. On such large volumes, exact ratios are very important. The RAVAS scale makes precise dosing very easy to do."
About the application
Dosing and mixing
When producing batches of semi finished or finished product, the aim is to correctly mix the different ingredients and components. Amounts and proportions determine the quality of the product. A mobile scale helps you to produce cheaper, safer and more efficient. It also generates the information you need for quality control and tracking and tracing procedures. The scale is brought to the components: on a hand pallet truck scale the mixing vessel is driven from one ingredient to the next and components are dosed straight from their container. The risk of damages and product loss is greatly reduced.
Read more about dosing and mixing
Suitable products
For dosing and mixing