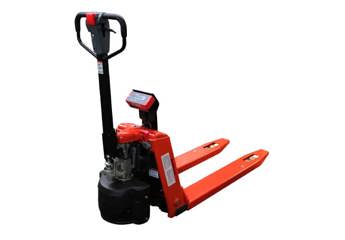 Benefits
Move and weigh ergonomically
Affordable alternative
The RAVAS Ergo Truck combines weighing and moving in one hand pallet truck scale. The electric drive and lift enables you to easily move heavy loads over short distances.
Easy to use
The 0.75 kW drive motor easily moves loads of more than 750 kg up to 1,500 kg. The integrated scale instantly weighs every load that you lift electrically.
Different type of indicators
As the RAVAS Ergo truck is available with weight indicators 3200 and 5200, there is always a version that fits your application.
Legal for trade
When choosing the OIML legal for trade version, you can invoice your customer based on the weighing data generated by the truck's scale.
Weighing capacity

1,500 kg

Graduation multirange

Up to 500 kg: 0.5 kg, up to 1,500 kg: 1 kg

Max. tolerance

0.1% of the load lifted

Display

LCD dual color, digit height 20 mm, backlight

Power

12V–34mA

Power supply

Via truck battery incl. power convertor/regulator

Keys

5 function keys, on/off key

Protection class

IP65

Dimensions excl. bracket (L x B x H in mm)

60 x 77 x 182

Options

RAM indicator mounting support, legal for trade version OIML III, thermal or matrix printer 12V, Bluetooth or WiFi data transfer, additional battery pack for extended autonomy, RDC software, RIS software
For industrial and warehouse applications
Best choice
The RAVAS Ergo Truck is the best choice for checking incoming goods, determining shipping weights, counting parts and preventing overload situations.
Request quote
Receive more information or a quote on the RAVAS Ergo Truck? 
Request quote
Receive more information or a quote on the RAVAS Ergo Truck?