Work and weigh ergonomically with the RAVAS Ergo Truck!


Weighing hand pallet trucks are excellent for moving goods horizontally. However, if you regularly have to deal with weights greater than 750 kilograms or if you regularly move pallet goods over large distances, this requires a more suitable solution. In this case, an electric weighing pallet truck is a better solution for you.
RAVAS understands that working ergonomically is essential for the sustainable employability of personnel and equipment. Good ergonomics not only ensures that employees are not unnecessarily burdened, but also ensures that working is easier and therefore more fun.
Thanks to the RAVAS Ergo Truck you retain the advantages of a hand pallet truck supplemented with a number of major advantages. For example, the Ergo Truck has the option of electrical lifting and can easily move weights larger than 750 kilograms, with a maximum of 1500 kilograms.
The RAVAS Ergo Truck has a large number of functionalities as standard. View the technical specifications of the system below.
Benefits
Move and weigh ergonomically
Affordable alternative
The RAVAS Ergo Truck combines weighing and moving in one hand pallet truck scale. The electric drive and lift enables you to easily move heavy loads over short distances.
Easy to use
The 0.75 kW drive motor easily moves loads of more than 750 kg up to 1,500 kg. The integrated scale instantly weighs every load that you lift electrically.
Different type of indicators
As the RAVAS Ergo truck is available with weight indicators 3200 and 5200, there is always a version that fits your application.
Legal for trade
When choosing the OIML legal for trade version, you can invoice your customer based on the weighing data generated by the truck's scale.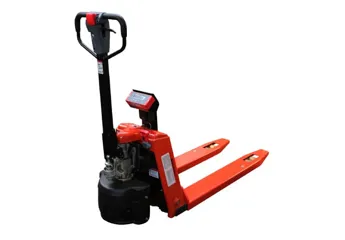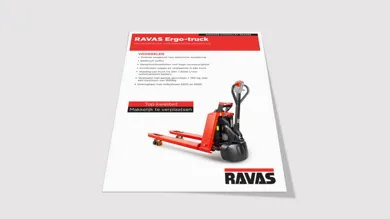 Weighing capacity

1,500 kg

Graduation multirange

Up to 500 kg: 0.5 kg, up to 1,500 kg: 1 kg

Max. tolerance

0.1% of the load lifted

Display

LCD dual color, digit height 20 mm, backlight

Power

12V–34mA

Power supply

Via truck battery incl. power convertor/regulator

Keys

5 function keys, on/off key

Protection class

IP65

Dimensions excl. bracket (L x B x H in mm)

60 x 77 x 182

Options

RAM indicator mounting support, legal for trade version OIML III, thermal or matrix printer 12V, Bluetooth or WiFi data transfer, additional battery pack for extended autonomy, RDC software, RIS software
Data management through our mobile weighing solutions
Creating Intelligence through RAVAS mobile weighing solutions
Our innovative mobile weighing solutions help you to organize your business processes more intelligently. How? Thanks to data communication and integration via weighing systems such as the RAVAS Ergo Truck, your trucks are in direct contact with your ERP, TMS, WMS or other software platform and collect data 24 hours a day. This data enables you to continuously check whether what you are doing is correct and to determine which processes can be done faster and better, in order to optimize your supply chain.
No situation is the same. RAVAS therefore offers various software solutions for data management that help you optimize your data flows. Curious about how our solutions help you create intelligence for your logistics or industrial organization? Read more about data management through our mobile weighing solutions.
Datamanagement
Contact us for a no-obligation quote or for advice
Ask an expert!
Receive more information or a quote on the RAVAS-1100? 
Ask an expert!
Receive more information or a quote on the RAVAS-1100? 
Availability and compatibility
Sales partners
RAVAS works with worldwide sales partners. Here's a selection of OEM brands.