Creating Intelligence
The Only Mobile Weighing Electric Pallet Jack Scale on the Market
Capture Weight
The iJack is an electronic pallet jack that captures weight while you stay on the move. Gone are the days of lifting and dropping loads multiple times on a floor scale or needing a forklift to handle a heavy load in a tight space. Built to help you work faster, smarter, and efficiently, the iJack is the perfect electric pallet jack to help you capture weight.
Communicate Wirelessly
The iJack allows operators to capture the weight of the load and share the data wirelessly in real-time via its built-in Bluetooth technology and WiFi. The iJack transfers data directly to your ERP business system or the RAVAS WeightsApp, outfitted with a RAVAS indicator, thus making The iJack smarter, faster, and stronger than competitive electric pallet jacks.
Save Time and Money
How much money can you generate if you weigh 50% faster with RAVAS? Not only can the iJack operate as any other electric pallet jack, but with its built-in RAVAS weighing scale, the iJack weighs loads while on the go and transfers the data directly to your business system in real-time. As a result, reduce lost time in the warehouse and generate real-time value for your operators with the iJack.
Watch How
Lifting Capacity
The iJack can lift, move, and weigh loads of product up to 4,000 lbs. If you are looking for a larger heavy-duty electric pallet jack, the iJack-40 is the ideal product for you. The iJack-26 is a smaller electric pallet jack scale that can lift to 2,600 lbs. and is perfect for retail and commercial flooring.
Why use the iJack for your electric pallet Jack
Typically, manual and electric-powered pallet jacks are used to load and unload trucks throughout a warehouse. However, electric pallet jacks are specially used for horizontal transport through warehouses. The iJack carries all the capabilities of an electric pallet jack, but why use the iJack instead?
The answer is simple. It's the only electric pallet jack scale with a built-in weighing scale. The iJack utilizes the innovative RAVAS digital scale as a tool to lift and move around heavy loads on pallets and weigh them directly on the go. There is no need to weigh pallets separately on a static platform or floor scale.
The iJack is multi-functional for industrial use. Along with its weighing capabilities, it also is equipped with the RAVAS Weights App and an optional printer to print out a label with the calculated data. As a result, the iJack is ideal for lift-gate delivery fees, store deliveries, retail, commercial flooring, and heavy-duty warehouse applications.
Learn more about how the iJack and RAVAS can benefit your warehouse with mobile weighing.
Read More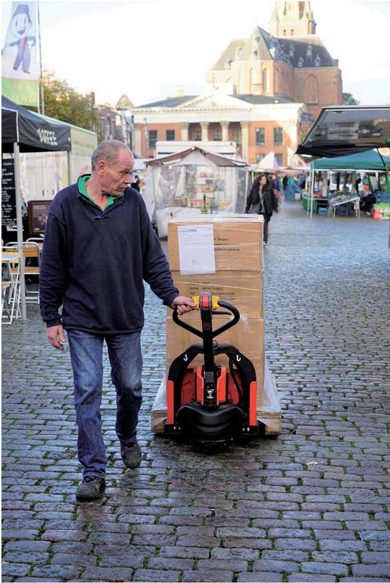 Interested in the iJack?
Ask our specialists for more information about the iJack.

Interested in the iJack?
Ask our specialists for more information about the iJack.
Contact Us For More Information