Electric Pallet Jack Scales
iJack - Because Every Second Counts
Innovation
Outfitted with a RAVAS scale and indicator, the iJack is smarter, faster, and stronger than competitive electric pallet jacks. With a built-in scale and WiFi-enabled onboard indicator, the iJack is the next generation of electric pallet jacks designed to increase the speed of your operation. 
Efficiency
The up/down, stop/start process of weighing with a floor scale is simplified with the RAVAS iJack. Now, you can lift a pallet, capture the weight of the load, and share the data wirelessly in real-time. Plus, the iJack's ergonomic design allows for safe and easy operation, limiting downtime.
Capacity
Manufactured to withstand the daily grind of a warehouse environment, the iJack is available in 2600 and 4000 lifting capacities. The battery-powered high-torque drive motor operates smoothly so that you can navigate tight corners while keeping pace with shipping demands.
Accuracy
Accurate shipping weights are essential to proper invoicing and driving revenue. RAVAS scales outperform the industry standard for accuracy. The iJack's onboard scale is NTEP (Legal for Trade) certified so that you can manage your legal for trade requirements with assurance.
iJack - Electric Pallet Jack Scales
When Time Equals Money, Every Second Counts
iJack-26 Technical Specifications

iJack-26 Manual

iJack-40 Technical Specifications

iJack-40 Manual
Why use the iJack for your electric pallet Jack
Typically, manual and electric-powered pallet jacks are used to load and unload trucks throughout a warehouse. However, electric pallet jacks are specially used for horizontal transport through warehouses. The iJack carries all the capabilities of an electric pallet jack, but why use the iJack instead?
The answer is simple. It's the only electric pallet jack scale with a built-in weighing scale. The iJack utilizes the innovative RAVAS digital scale as a tool to lift and move around heavy loads on pallets and weigh them directly on the go. There is no need to weigh pallets separately on a static platform or floor scale.
The iJack is multi-functional for industrial use. Along with its weighing capabilities, it also is equipped with the RAVAS Weights App and an optional printer to print out a label with the calculated data. As a result, the iJack is ideal for lift-gate delivery fees, store deliveries, retail, commercial flooring, and heavy-duty warehouse applications.
Learn more about how the iJack and RAVAS can benefit your warehouse with mobile weighing.
Read More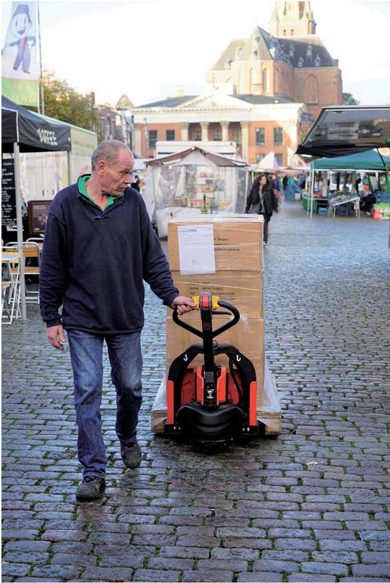 Interested in the iJack?
Ask our specialists for more information about the iJack.

Interested in the iJack?
Ask our specialists for more information about the iJack.
Contact Us For More Information